About Children's Paradise Subsidy Programs
Locations
Children's Paradise currently has many locations across San Diego County. These include: East Vista on Vale Terrace, South Vista on Melrose, North Vista on Bobier, North Escondido on El Norte, East Escondido on Ash and in Oceanside on Mission Avenue. Coming SOON: Ramona and Carlsbad.
Additional sites are opening! Please inquire at any Center to locate the most convenient site for your family.

Open Door Policy
As a Parent/Authorized Representative, you have the right to enter and view the childcare Center without advanced notice whenever children are in our care.

Equal Access
Children's Paradise does not discriminate on the basis of sex, sexual orientation, gender, ethnic group identification, race, ancestry, national origin, religion, color, mental or physical disability in determining which children are served. Children's Paradise welcomes enrollment of children with disabilities and understands the requirements to make accommodations for children with disabilities and implements those accommodations.

Health & Social Service
Children's Paradise believes that early childhood education is not just about educating your child. Our services also include connecting the family to community health and sustainability resources which result in the information your family needs to thrive throughout the early years and beyond.

Parent Involvement & Education
Children's Paradise involves parents in the following ways:

An orientation for parents to include topics such as program philosophy, goals and objectives, activities, eligibility criteria and priorities for enrollment, fee requirements, and due process procedures
At least two (2) individual parent/teacher conferences per year
Parent meeting with program staff as needed
An open door policy that encourages parents to participate in the daily activities whenever possible
A Parent Advisory Committee that advises Children's Paradise on issues related to services available to families and children
Children's Paradise is committed to effective communication between parent and staff concerning each individual child's progress
First priority for enrollment in the State Preschool program is for age eligible children who are recipients of Child Welfare Services or who are at risk of neglect or exploitation. The California Department of Education requires a specific set aside to serve children with Exceptional Needs in the California State Preschool Program.
Program Self-Evaluation Process
Children's Paradise conducts an annual self-evaluation process which includes, among other requirements, an assessment of the program by parents using the Desired Results Parent Survey.

Staff Development
Children's Paradise is committed to quality early childhood education. We hire qualified staff. All Children's Paradise staff hold the appropriate credential/ permit required by the State of California. New employees are provided with an orientation to guide them in their understanding of Children's Paradise policies related to their respective job descriptions. We support continuous staff growth by assessing the needs of staff and providing professional development activities to enhance their growth. Our staff members are evaluated annually and we have sound internal communication mechanisms which include email, phone, and a newsletter to provide staff with information necessary to carry out their respective duties.

Our Locations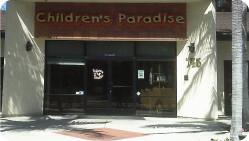 145 N. Melrose Dr., Ste 100
Vista, CA 92083
760-724-5600
License #376700121,22;376701204
GET STARTED
We invite you and your little one to schedule a tour at of one of our beautiful, high quality early learning centers and get enrollment information today. During the tour, we'll provide you with pricing and an enrollment package. We encourage you to bring your child to the visit and spend some time exploring our magical play areas and age appropriate environments.