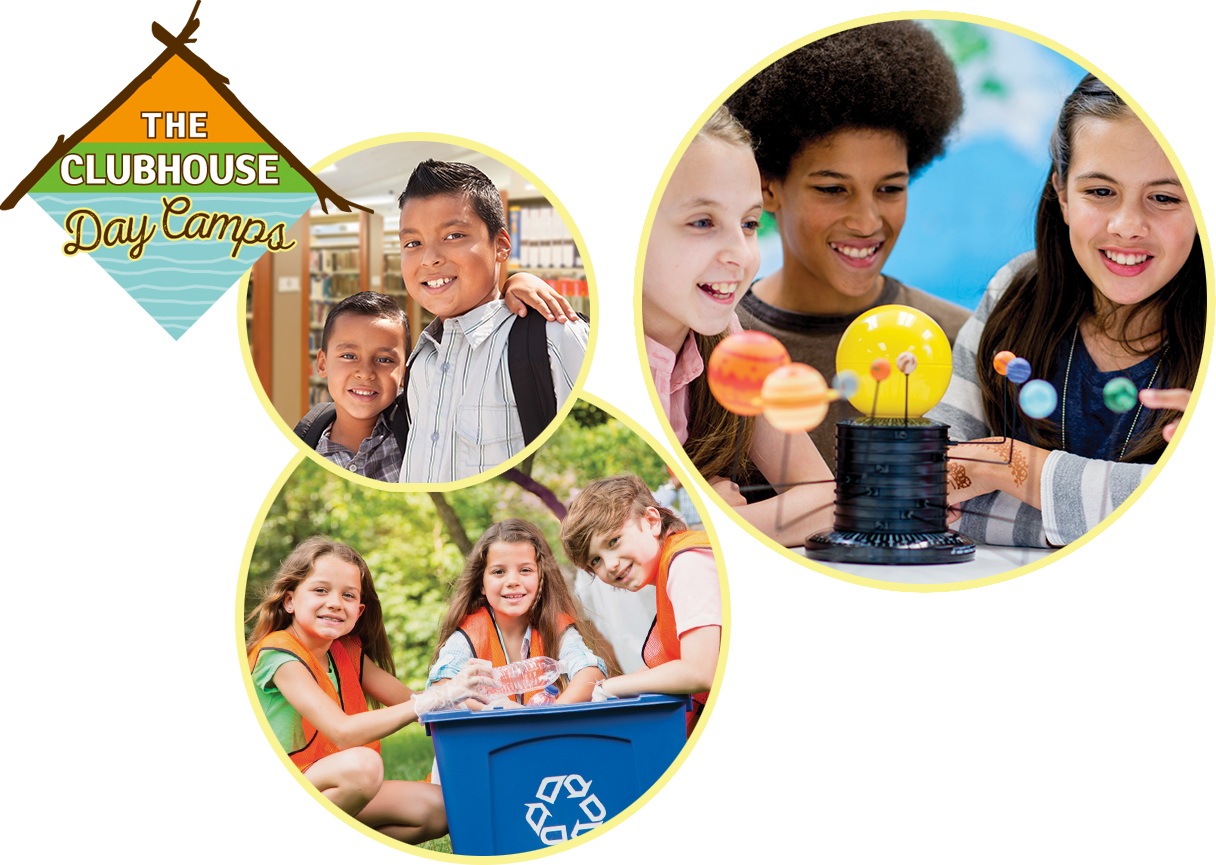 The Clubhouse
Summer Day Camp
FOR AGES:
Entering 1st Grade - 5th Grade
+ options for younger kids
HOURS:
Any consistent 10 hours per day between 6:00 a.m. and 6:00 p.m. Monday-Friday
COST:
$270 / Week
( Includes lunches and snacks )
* Essential Workers, CDA, YMCA, YMCA Stage 1 Accepted
About Clubhouse Summer Day Camps
The Clubhouse summer day camps provide kids outrageous fun and excitement in addition to keeping them sharp with learning activities all summer long. We pride ourselves on offering action packed days through water play, cool crafts, cooperative games, science experiments, yummy cooking classes, spectacular sports and incredible friendships. Daily activities also include reading, fun math projects, thinking games and small group times where your child will have the ability to engage in mind challenges and educational opportunities.
Low teacher to child ratios

Healthy meals included

Fun, Healthy and active experiences

Weekly field trips

Flexible full-day
The Clubhouse Day Camper
Makes lots of friends
Experiences San Diego Sites
Loves a Big Challenge
Feels Safe and Healthy
Is Imprinted with Enduring Memories
Sleeps Like a Bear
10 Reasons to join us!
FUN Experiences

Professionally Trained Staff Licensed by Community Care Licensing

Low teacher to child ratios

SAFE and happy!

Affordable
Weekly FIELD TRIPS

HEALTHY & Active

Flexible FULL DAY

Field Trip Transportation Included

Healthy Meals Included
ART KIT: DIY Visors and Water Bottles

BOOK: And Then Comes Summer… by Tom Brenner.
Jump into summer by experiencing some fun in the sun with friends! Campers will visit local splash pads, make their own popsicles, and have fun with water relay activities. They will also design their own visors and water bottles to keep them sun safe and hydrated this summer.
DATE: 6/5/23 – 6/9/23 (Vista Sites – 6/8 and 6/9 only)
LOCATIONS: 2 Escondido and 2 Vista
INCLUDES:  Meals
ART KIT: Sports Suncatchers
BOOK: Good Sports: Rhymes about Running, Jumping, Throwing, and More by Jack Prelutsk.
This week campers will definitely have a BALL participating in sporting activities. Campers will be able to play traditional ball sports such as basketball, volleyball and soccer with an exciting twist. They will also compete in a mini-golf tournament and explore their flexibility, coordination, and endurance at the trampoline park.

DATE: 6/26/23 – 6/30/23
LOCATIONS: Oceanside, 2 Escondido and 2 Vista
INCLUDES: Meals
CLUBHOUSE CREATORS
Art Week
ART KIT: Canvas Creations
BOOK: This Book Thinks You're an Artist by Harriet Russell.
Campers will embrace their creative sides through many different forms of art. They will have the chance to perform in a Talent Show and showcase their art for the school. Campers will visit art museums to see art from local and touring artists.

DATE: 7/17/23 – 7/21/23
LOCATIONS: Oceanside, 2 Escondido and 2 Vista
INCLUDES: Meals
LEADERSHIP & GIVING
Back Week
BOOK: The More You Give by Marcy Campbell.
Campers will end the summer by giving back to their community. They will participate in outreach and beautification projects in their neighborhood. Campers will also get ready school by participating in leadership activities and doing random acts of kindness.

DATE: 8/7/23 – 8/11/23
LOCATIONS: Oceanside, 2 Escondido and 2 Vista
INCLUDES: Meals
BOOK: Over and Under the Waves by Kate Messner
Campers will explore the waters of our natural coast with a visit to the Birch Aquarium. They will dive deep into learning about the habitats and adaptations found in animals of the ocean.

DATE: 6/12/23 – 6/16/23
LOCATIONS: 2 Escondido and 2 Vista
INCLUDES: Meals
ART KIT: Patriotic Pinwheels
BOOK: 50 Adventures in the 50 States by Kate Sieber.
Campers will celebrate our country by learning about Independence Day and many other fun (and sometimes random) facts about the 50 states of the USA. Campers will enjoy picnics with friends, water play at the pool, and visits to their local parks.

DATE: 7/3/23 – 7/7/23 (All centers will be closed 7/4/23)
LOCATIONES: Oceanside, 2 Escondido and 2 Vista
INCLUDES: Meals
BOOK: The Great Games Book by Susan Adams.
Campers will learn new games to play alone, as well as with peers. They will work on team building skills, practice strategic planning and taking turns. Campers will explore games from around the world and even get a chance to design their own.
DATE: 7/24/23 – 7/28/23
LOCATIONS: Oceanside, 2 Escondido and 2 Vista
INCLUDES: Meals
ART KIT: Solar System Mobiles
BOOK: Moon! Earth's Best Friend by Stacy McAnulty.
Campers will be exploring physics concepts while learning about rockets. They will look to the skies to explore constellations and the many wonders of our solar system. A visit to the San Diego Air and Space Museum will give campers an interactive look at this study.

DATE: 6/19/23 – 6/23/23
LOCATIONS: Oceanside, 2 Escondido and 2 Vista
INCLUDES: Meals
BOOK: A Ticket around the World by Natalia Diaz & Melissa Owens.
Campers will turn their focus to explore the globe this week. They will listen to music from around the world and learn how people from other countries live. Campers will visit an international market and try a variety of foods from different regions.

DATE: 7/10/23 – 7/14/23
LOCATIONS: Oceanside, 2 Escondido and 2 Vista
INCLUDES: Meals
ART KIT: Volcanic Eruptions
BOOK: What is a Scientist? By Barbara Lehn.
Campers will become scientists this week by developing and testing theories, learning through trial and error, and experimenting with new materials. Campers will also have a chance to display a science fair project in the office. The week will also include a trip to the Ruben H. Fleet Science Center for some hands-on exploration.

DATE: 7/31/23 – 8/4/23
LOCATIONS: Oceanside, 2 Escondido and 2 Vista
INCLUDES: Meals