HIGH QUALITY EDUCATION THROUGH PLAY
Your child now has the opportunity to interact with our team of highly educated teachers and caregivers as we guide developmental and age-appropriate experiences in a fresh and attractive environment filled with sparkling play-spaces. Intentional activities provide opportunities to master self-help skills, problem solving skills and negotiate personal relationships. Through an environment filled with free-choice, your child has the opportunity to play individually, with friends, work cooperatively in small groups and enjoy the excitement of large group activities. We strive to plan educational play times which promote independence, encourage exploration, model respect, support diversity, and provide the opportunity to practice social skills.
Our Center is a place where infants can start in a "home away from home" atmosphere and continue on through our highly rated preschool program and then enjoy adventure throughout their elementary years in our after-school programs. When high quality education is combined with high quality personal care, the building blocks which secure a stable foundation for lifelong education are created. Our responsibility to your family is to facilitate a partnership which supports the gift of a happy childhood to each and every child in our care.
Ongoing
Evaluation &
Guidance
DEVELOPMENTAL PLACEMENT
Each Early Learning Center is divided into groups based upon the social, emotional, physical, cognitive, creative, and language development of each child. As each child masters a developmental level of skills, we introduced them to new environments, peer groups, routines, and responsibilities that support and stimulate interest in greater learning.
We make these introductions a thorough process we call "visiting". When you child is ready to begin the transition into an older peer group we begin the process of "visiting" by first gaining the support and approval of all involved. This includes the child, parents, teachers, and Center Director. Your child will then begin to visit the new group. When your child feels comfortable and expresses a desire to stay a full-day in the new group we communicate once again and the move becomes permanent.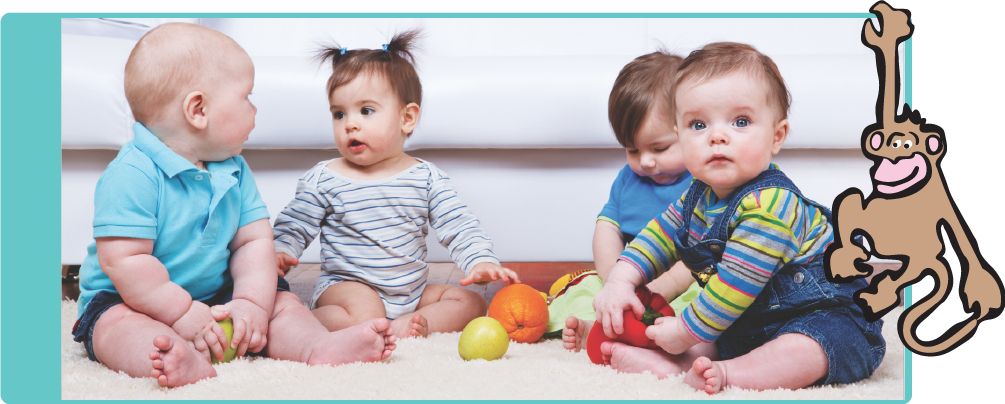 Our Program Design
CURRICULUM
At Children's Paradise we focus on creative play using proven research-based methods to instill a depth of learning that cannot be undone. After all, don't you retain more information when you're interested in what you're learning? Yes! Preschoolers are little people but they do not learn the same way as adults. That's why we use cutting-edge curriculum that is research-based to give your child a huge learning advantage. Depending upon the age and development of your child we may use one or more of the following: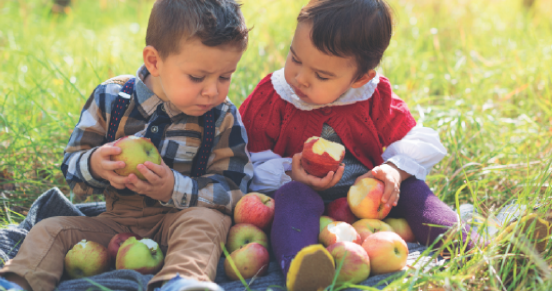 AGES & STAGES QUESTIONNAIRE (ASQ)
We being each year using the Ages and Stages Questionnaire. It gives us insight into how you see your child's development and helps us to develop specific learning outcomes for your child. It also helps us to initially identify strengths and areas of focus for each individual child and assists parents and teachers in creating a strong partnership for the developmental progress of each child. Through our various community partnerships, we are also able to connect you with valuable resources to help support your child's healthy development. This form and active observation must be completed within 45 days of enrollment.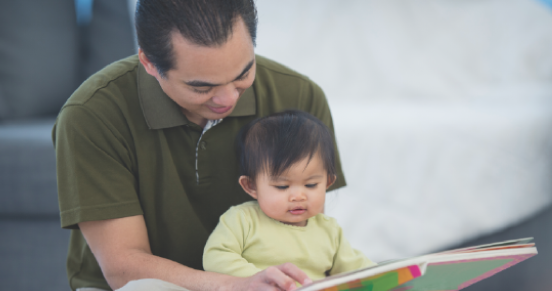 DESIRED RESULTS DEVELOPMENTAL PROFILE (DRDP)
The DRDP is a developmental tool which helps our teachers measure learning growth to prepare your child for kindergarten. Using this tool, teachers routinely record observations and tally these in a formal report. The results are upload into DRDP-Tech, a system used to deliver comprehensive and diverse reports documenting learning progress individually and for the classroom as a whole. We use this system to understand your child's current knowledge and skill level. We then plan curriculum using international teaching strategies which support individualized learning in the classroom. Information about the learning progress of each child is then shared with their family as we collaboratively implement strategies to support the learning of each student both at school and at home.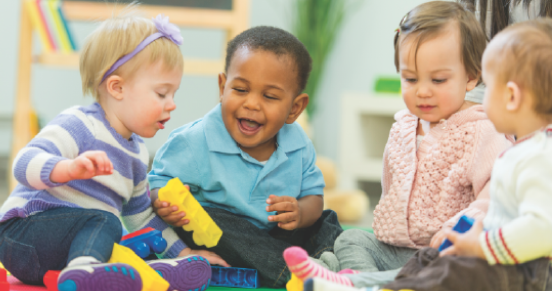 EARLY CHILDHOOD ENVIRONMENT RATING SCALE (ECERS)
The teachers utilize this tool when setting up their classroom environments. It assists us in creating developmentally appropriate and intentional learning Centers where children learn and develop through fun, engaging, and hands-on materials. An outside agency evaluates our classrooms annually and assigns a score. All Children's Paradise Centers rank among the highest in San Diego County!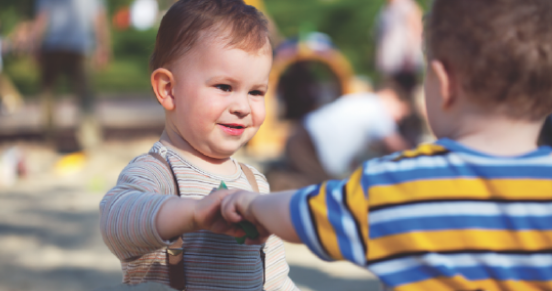 CLASSROOM ASSESSMENT SCORING SYSTEM (CLASS)
This observation tools focuses on the daily interactions between teachers and students as it measures classroom organization, instructional support, and emotional support within the classroom setting. An outside agency also reviews all classrooms annually and assigns a score. Get to know the scores! We provide amazing results!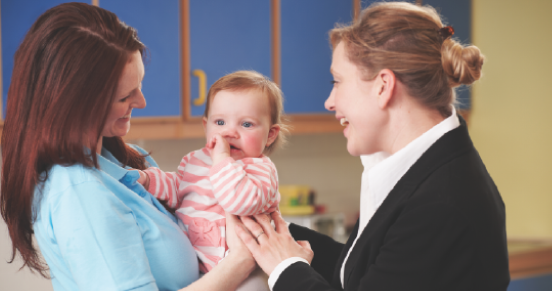 PARENT-TEACHER CONFERENCES
Twice per year our teaching staff and enrollment family specialists share all of this exciting information with you and document where your child began and what your child knows because of our magical learning strategies and planned journey! We will discuss the ASQ, DRDP, your child's school readiness goals and work together to create a specific Individual Education Plan for your child.