Parents seeking to enroll their children in any program operated by Children's Paradise including Tuition-based, Alternative Payment Program Vouchers, CALWORKs, California State Preschool, Early-Head-Start, Head Start or the Quality Preschool Initiative Program must visit the Center and take a tour, questions about your child's classrooms, teacher, curriculum, adult to child ratio, and other valuable information will be answered.
It is preferred that your child also receives a tour of our Center and spends some time in their assigned room before their first day of school. The time spent in the classroom will give your child the opportunty to meet their teacher, begin new friendships, and see the environment while accompanied by a trusted adult. Children who are introduced into a new environment in this manner have a much easier time with the adjustment process that follows enrollment into a new school. This is especially important for infants and children through the age of five.
TUITION
Tuition is charged based upon the current Fee Schedule provided during your admission conference with the Office Manager/Director unless you are participating in a subsidy program. All rates are based upon your weekly rate or as specified in the Center Contract Form which states specifically the days and hours your child will attend each week. Subsidy programs have their own policies and procedures. Please refer to the subsidy section of this handbook for more specific information.
FINANCIAL ASSISTANCE
California State Preschool Early Head Start Head Start Alternative Payment Programs Quality Preschool Initiative
Children's Paradise does not discriminate on the basis of sex, sexual orientation, gender, ethnic group identification, race, ancestry, national origin, religion, color, mental or physical disability in determining which children are served. Children's Paradise welcomes enrollment of children with disabilities and understands the requirements to make accommodations for children with disabilities and implements those accommodations.
SELECT THE LOCATION BEST FOR YOU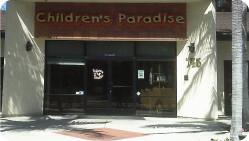 145 N. Melrose Dr., Ste 100
Vista, CA 92083
760-724-5600
License #376700121,22;376701204
GET STARTED
We invite you and your little one to schedule a tour at of one of our beautiful, high quality early learning centers and get enrollment information today. During the tour, we'll provide you with pricing and an enrollment package. We encourage you to bring your child to the visit and spend some time exploring our magical play areas and age appropriate environments.