Attendance
It is important that your child attends each day and that you work in collaboration with the Center Staff (Center Director, Teacher, and Enrollment Family Specialist to maintain regular daily attendance. If your child is absent, it is your responsibility to notify the Center in person, by email or by telephone.
Sign In/Out
Children must be signed in and out each day with a full legal signature. Parent/Guardian must sign in with the exact times of arrival and departures clearly indicated (no initial). The person who signs the child in must remain with him/her until the child has been accepted for the day and screened for early signs of illness.
If your child is to be picked up by someone other than an authorized person, please send a signed note of permission and call the Center for your child's protection. A picture I.D. will be required for the person picking up your child and the person must be 18 years of age or older. All children must be picked up immediately following their class period. Repeated failure to pick up your child at the designated time will result in two (2) verbal warnings and one (1) written warning. The fourth offense may result in the Center calling the authorities to pick up your child.
Excused Absences
The following are excused reasons for absence:
The following are excused reasons for absence:
Family Emergency
Best interest of the child (Limited to 10 days annually)
Court Ordered Visitation (court ordered visitation must be on file)
Health reasons only for enrolled child or parent/guardian (illness or quarantine, doctor/dentist appointment)
Best Interest of the Child
The California Department of Education/Social Services  allows for ten (10) days of excused absences during a contract year (July 1 to June 30) to be used by families to spend time with their children; court ordered visitation is not included in these 10 days (Court Order must be on file).
Excused absences are clearly to be used in the "Best Interest of the Child." Examples: family vacation, family gatherings, birthdays, religious or cultural events, time with a non-custodial parent (if a court order is not on file), time with other relatives, child, family friends or sibling's, illness or injury, staying home with family after the birth of a new brother/sister, or transportation issues.
Family Emergency
Family emergency situations are defined as unplanned events. A family emergency includes absences due to the death of an immediate family member (immediate family member is defined as parent/guardian or living in the same household, sibling, grandparents); car accident involving parent/guardian or adult responsible for child on their way to the school; eviction of family from one's own home; or a house fire/flood (documentation must be on file from home eviction, house fire/flood). We will also recognize natural disasters, last minute appointments to retain subsidies or other benefits and car trouble.
Unexcused Absences
Any absence other than those described above as "excused absences" are considered unexcused. To avoid unexcused absences, you must call or email the Center on the days your child is absent.
Abandonment of Care
If your child has not arrived within their scheduled drop off window and we have not heard from you, we will try to reach you to ensure your child and family's well-being. If there is 30 consecutive calendar days with NO contact from the parent/guardian, services will be terminated for abandoning your child's placement in our program.
Limited Service Leave may be approved on a case by case basis and must be submitted and approved at least two weeks prior to the scheduled leave. Only requests made in writing will be considered. We will not honor verbal conversations either in person or over the phone. All approved Limited Service Leave must be in writing only.
Our Locations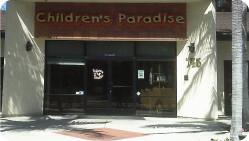 145 N. Melrose Dr., Ste 100
Vista, CA 92083
760-724-5600
License #376700121,22;376701204
GET STARTED
We invite you and your little one to schedule a tour at of one of our beautiful, high quality early learning centers and get enrollment information today. During the tour, we'll provide you with pricing and an enrollment package. We encourage you to bring your child to the visit and spend some time exploring our magical play areas and age appropriate environments.