Confidentiality of Records
5 CCR, Section 18117 requires that the use or disclosure of all information pertaining to the child and his/her family is restricted to purposes directly connected with the administration of the subsidized childcare program.
Diapers
Parents are required to provide diapers and wipes as necessary unless you have been notified these are provided by the program reimbursement included in your subsidy.
Field Trips
Field trips are not covered in any applicable family fees. If you are unable to participate in the costs of a Center field trip please work with your Center Director Team to secure a Smarty Patch Foundation scholarship or other assistance as may be required to insure your child can participate in all school activities without interruption.
Non-Harassment Policy
Children's Paradise employees have a critical responsibility for maintaining high standards of honesty, integrity, impartiality, and conduct to assure proper performance of the agency's business. Any employee conduct that violates this standard cannot be tolerated.
Harassment is a form of misconduct that undermines the integrity of the employment or clientele relationship. All employees must be allowed to work in an environment free of unsolicited and unwelcomed sexual overtures. Sexual harassment weakens morale and interferes with the work productivity and is covered under our Non-Harassment policy.
Harassment on the basis of sex is a violation of Federal and State laws. Unwelcome sexual advances, request for sexual favors, and other unlawful verbal or physical conduct constitutes sexual harassment when
submission to conduct is made, either explicitly or implicitly, a term or condition of an individual's employment,
submission or rejection of such conduct by an individual is used as a basis for an employment decision affecting such individual, or
such conduct has the purpose of effect of unreasonably interfering with an individual's work performance or creating an intimidating, hostile, or offensive working environment.
Any Children's Paradise employee who uses implicit or explicit coercive sexual behavior to control, influence, or effect the career, salary, or job of an employee is engaging in sexual harassment. Similarly, gestures or physical contacts of a sexual nature that are unwelcome and interfere with work productivity constitute sexual harassment. All employees are aware that such action is subject to appropriate disciplinary action.
Complaints or concerns about sexual harassment should be directed to the employee's immediate supervisor or Human Resources Director or designee. Complaints and concerns will be examined and resolved in an impartial, prompt, and confidential manner.
Fraud is defined as knowingly or intentionally withholding pertinent materials or information, making any false statements or presenting any false materials or information, as a means of obtaining state-funded child development services. Fraudulent, false, incomplete, deceitful, or misleading information provided to a Children's Paradise Center regarding income, family size, employee seeking employment, school/training program enrollment and for medical incapacitation that is used to determine initial or on-going eligibility for subsidize child development services or parent fees may be grounds for termination of child development services.
Parent Concern Procedures
Children's Paradise State Preschool Program and General Child Care and Development Program recognizes the need to quickly and fairly resolve parent concerns or complaints that arise within program operations.
This procedure is posted on the Parent Board at each center and does not apply to personnel issues. The posting includes a QR code that allows parents direct access to a digital complaint form simply by scanning the QR code with their cell phone. Every effort will be made to maintain confidentiality of all parties concerned when dealing with this matter.
First and foremost, parents are encouraged to address their concerns by speaking with their child's teacher or Center Director. Parents can request a meeting at any time. If issues cannot be resolved at the site level, parents may choose from the options below:
Option 1:
Scan the Parent Complaint QR Code to submit a confidential concern or complaint, or complete the Parent Concern Form and forward to the Center Director. If issues cannot be resolved in that manner, parents may choose Option 2
Option 2:
Communicate directly with Tania Valdez– Director of Parent Engagement/Student Support at tvaldez@childrensparadise.com or 760-407-8500 ext. 1015. If issues cannot be resolved in that manner, parents may choose Option 3
Option 3:
Communicate directly with Jessica Cardozo – Assistant Director of Child Development at jcardozo@childrensparadise.com or 760-407-8500 ext. 1011. If issues cannot be resolved in that manner, parents may choose Step 4.
Option 4:
Communicate directly with Diane Prospero – Director of Child Development at dprospero@childrensparadise.com or 760-407-8500 ext. 1010.  If issues cannot be resolved in that manner, the Executive Team will be engaged to resolve the issue.
Uniform Complaint Procedures
Please use the "Parent Concern Procedures" outlined above to begin your problem resolution. If unsuccessful, you should then move forward with the Uniform Complaint Procedures outlined here.
It is the intent of Children's Paradise to fully comply with all applicable state and federal laws and regulations.
Individuals, agencies organizations, students and interested third parties have the right to file a complaint with the State Department of Education regarding any alleged violation of federal or state laws. Complaints must be signed and filed in writing with the State Department of Education. No local hearing will be conducted; a final written decision will be given by the State Department of Education Child Development Division.
California Department of Education
Child Development Division
Attention: Complaint Coordinator
1430 N. Street, Ste. 3410
Sacramento, CA 95814
Anything different for CCTR uniform complaints?
Parent trainings are provided during our monthly Center Parent Meeting.
Parent Advisory Committee
The State Preschool Parent and General Child Care Advisory Committee, General Child Care and Development Program Parent Advisory Committee and the Head Start Policy Council are held together. Representatives from the Blended Program sites are elected at the parent Center committee meetings to serve on the Parent Advisory/Parent Policy Council. The Policy Council agenda includes the following items to ensure that State Preschool Program and General Child Care and Development Program issues and policies are addressed:
Updates from the California Department of Education and Social Services
Reports for State Preschool Program and General Child Care and Development and Program Sites
Early Care and Development
Program Monitoring Reports
Parent Education & Community Resources
Additionally there is a Center Parent Meeting on a monthly basis regarding curriculum and Center activities. Parent trainings are provided during these meetings, as well.
Termination Policy
Children's Paradise retains the right to drop a child from the program after all efforts have been exhausted. The parent will be offered another program option that meets their needs if a vacancy is available or placed back on the priority list. A Notice of Action will be mailed or delivered to the parent on the effective date of the intended action and with the reason of the action. The decision to drop a child from the program shall be implemented in accordance with, but not limited to, the following:
Failure to meet subsidy requirements.
Knowingly misrepresenting eligibility, using incorrect or inaccurate information to obtain a benefit that the parent would otherwise not be entitled to receive.
Violation of agencies policies and procedures
State/Federal contract funding ends
Person whose behavior presents a risk to children and staff (parent using profane language, threats, destroying property)
Person who is engaging in any kind of behavior which is disruptive to the business of Children's Paradise Inc.
The staff received notification from parent, that the parent no longer wants the services.
Failure to comply with the Absence/Best Interest of the Child Policy.
Failure to participate four consecutive days without communicating with the Center staff.
Failure to comply with Head Start Enhanced requirements.
Failure to comply with all Quality Preschool Initiative Requirements.
Delinquent Fees
Our Locations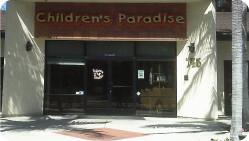 145 N. Melrose Dr., Ste 100
Vista, CA 92083
760-724-5600
License #376700121,22;376701204
GET STARTED
We invite you and your little one to schedule a tour at of one of our beautiful, high quality early learning centers and get enrollment information today. During the tour, we'll provide you with pricing and an enrollment package. We encourage you to bring your child to the visit and spend some time exploring our magical play areas and age appropriate environments.