How to Continue in the Program
Recertification
All families must be recertified after 24-months of services, unless a parent requests to recertify services to extend their eligibility at an earlier date, or the family is no longer age eligible for the program. For recertification, families are required to provide documentation to support continued eligibility and need for services. Families will be notified in advance of the date recertification is due; if recertification is not completed, a NOA for termination of services will be issued.
Family Fees
A monthly "Family Fee" will be assessed and collected based on income and family size and no adjustments will be made for excused or unexcused absences. Credit for fees paid to other service providers, when not able to meet all the family's need for which eligibility and need have been established, a receipt or cancelled check is required. Credit is for subsequent billing period.
Delinquent fees are charged after seven (7) calendar days of due date, except for those in CSPP, CCTR and Early Head Start Programs. Services must be terminated unless these fees are paid routinely when the fees are due. A reasonable repayment plan will be accepted if extenuating circumstances which are beyond the immediate control of the parent. Upon mutual agreement between Children's Paradise Inc. and the Parent, the agreement will allow for a waiver of these requirements. Once the agreement is in place the parent must comply with the repayment plan for continued services. The parent may request to reduce the fee at any time during the 24-month eligibility period with no consequence to the hours of care. This is a voluntary request and will be approved or denied.
Exceptions for Family Fees
There are no fees for:
CPS or At-Risk children, if waived in a written referral by a legally qualified professional or the CPS worker for a maximum of 12 months.

Families receiving CalWORKs cash aid

Part-day preschool
Notification of Changes
Parent must notify Children's Paradise when their income exceeds 85% of the state medium income for CCTR programs and 115% of the state medium income for CSPP programs.
A family has the right to voluntarily request changes at any time to reduce their fee or increase/decrease hours of service. If a request to reduce hours is accepted, additional proof will be needed at a later date to increase hours.
Our Locations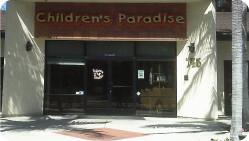 145 N. Melrose Dr., Ste 100
Vista, CA 92083
760-724-5600
License #376700121,22;376701204
GET STARTED
We invite you and your little one to schedule a tour at of one of our beautiful, high quality early learning centers and get enrollment information today. During the tour, we'll provide you with pricing and an enrollment package. We encourage you to bring your child to the visit and spend some time exploring our magical play areas and age appropriate environments.