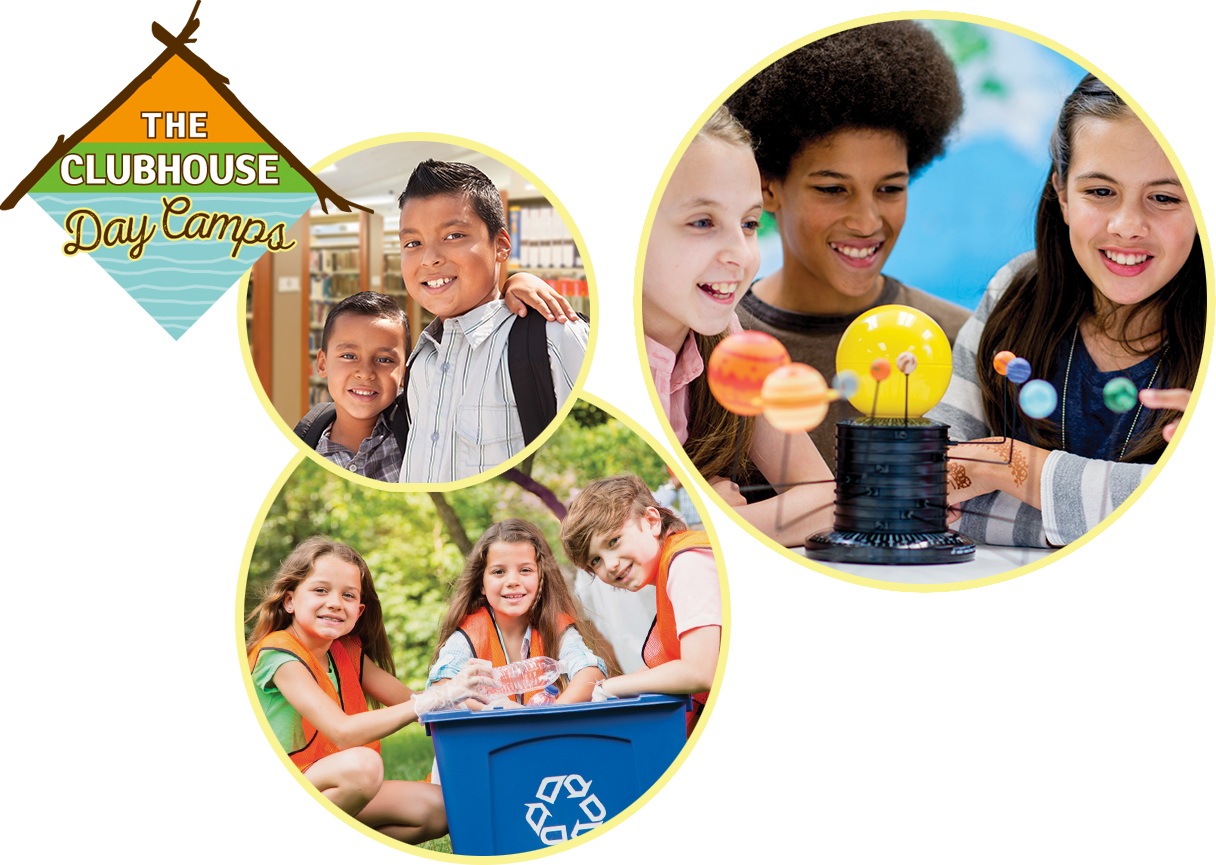 The Clubhouse
Summer Day Camp
FOR AGES:
Entering 1st Grade - 5th Grade
+ options for younger kids
HOURS:
Any consistent 10 hours per day between 6:00 a.m. and 6:00 p.m. Monday-Friday
COST:
$240 / Week
( Includes lunches and snacks )
* Essential Workers, CDA, YMCA, YMCA Stage 1 Accepted
About Clubhouse Summer Day Camps
The Clubhouse summer day camps provide kids outrageous fun and excitement in addition to keeping them sharp with learning activities all summer long. We pride ourselves on offering action packed days through water play, cool crafts, cooperative games, science experiments, yummy cooking classes, spectacular sports and incredible friendships. Daily activities also include reading, fun math projects, thinking games and small group times where your child will have the ability to engage in mind challenges and educational opportunities.
Camp "Kiddo" & Kindergarten Readiness
We also offer summer camps for younger children too! Children up to 4 years old can enjoy camp and continue to learn and grow with fun themed activities similar to our school age camp. Children are cared for in our preschool setting and grouped age appropriately by our preschool staff. They'll have the opportunity to play outdoors, interact with other children and engage in plenty of hands on adventure.
Low teacher to child ratios

Healthy meals included

Fun, Healthy and active experiences

Weekly field trips

Flexible full-day
The Clubhouse Day Camper
Makes lots of friends
Experiences San Diego Sites
Loves a Big Challenge
Feels Safe and Healthy
Is Imprinted with Enduring Memories
Sleeps Like a Bear
10 Reasons to join us!
FUN Experiences

Professionally Trained Staff Licensed by Community Care Licensing

Low teacher to child ratios

SAFE and happy!

Affordable
Weekly FIELD TRIPS

HEALTHY & Active

Flexible FULL DAY

Highly Regarded

Healthy Meals Included
ART KIT: Camp Journal Kit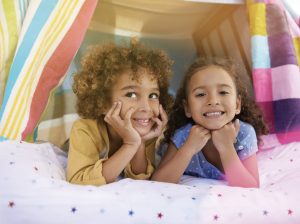 BOOK: Toasting Marshmallows – Camp Poems by Kristine O'connell George.
Jump into summer by experiencing camping activities and exploring the natural world! Students will get an opportunity to pretend to go on camping adventures and dive into science, art, and physical activities!

DATE: 6/13/22-6/17/2022
LOCATIONS: Oceanside
INCLUDES:  Meals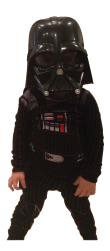 BOOK: Throw Your Tooth On The Roof – a book of traditions by Selby Beeler.
Explore the wacky and fun world of Disney through themed activities that relate to popular shows on Disney. Campers will compete in game shows, perform science experiments seen on TV, take on the role of a favorite character, and learn from the positive life lessons Disney shows portray.

DATE: 7/5/22-7/8/22
LOCATIONS: Oceanside, Escondido, 3 Vista locations
INCLUDES: Meals
ART KIT: Color Your Own Emoji Kite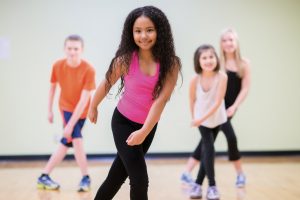 BOOK: Walter Wick's Optical Tricks by Walter Witt.
Here is an awesome chance to challenge your skills at different board, card, arcade, and sports games such as Family Feud, Minute to Win It and Are You Smarter Than a 5th Grader? This camp has something for everyone who likes to play games including team tournaments, old-school card games!

DATE: 7/25/22-7/29/22
LOCATIONS: Oceanside, Escondido, 3 Vista locations
INCLUDES: Meals
ART KIT: DIY Pinwheel Kit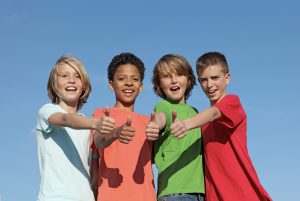 BOOK: Follow That Map by Scot Ritchie.
Clubhouse Campers are in charge this week! They'll help create different carnival games and activities, and get prizes and treats galore! Anticipation is at an all-time high leading up to this end-of-summer celebration. You will not want to miss this amazing summer bash!!!

DATE: 8/15/22-8/19/22
LOCATIONS: Escondido, 3 Vista locations
INCLUDES: Meals
ART KIT: Thankful Space Mobile Kit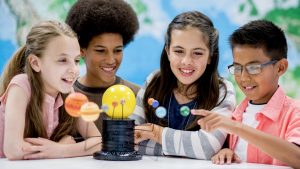 BOOK: The Book Of Bad Ideas by Laura Huliska-Beith.
Leadership week kicks off the summer with getting to know others and discovering the unique leadership qualities in each individual camper. Collaborative work sessions and team building activities will build confidence, resilience and responsibility, empathy and the value of diversity to empower and inspire leaders.

DATE: 6/20/22-6/24/22
LOCATIONS: Oceanside, Escondido, 3 Vista locations
INCLUDES: Meals
ART KIT: Tropical Animal Mini Fan Kit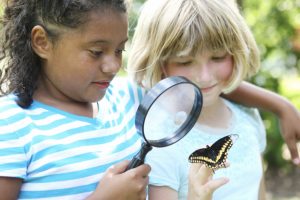 BOOK: Whale Trails Before and Now by Lesa Cline-Ransome.
Explore the wonder and fascination of all animals at our Animal Planet Adventure Camp. Ocean voyagers will experience the thrill of all wild animals when they engage in activities that include ocean/wild life related arts and crafts, games and even a few "Cool Animal Tales."

DATE: 7/11/22-7/15/22
LOCATIONES: Oceanside, Escondido, 3 Vista locations
INCLUDES: Meals
ART KIT: Paint Ceramic Cactus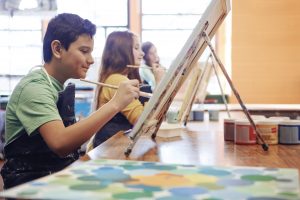 BOOK: Look! Body Language in Art by Gillian Wolfe.
Come and create with different artistic mediums including photography, acrylic paints, clay and oil pastels. We may even create a script for a summertime story and make a movie. The artistic exploration continues with a dance contest, & talent show.
DATE: 8/1/22-8/5/22
LOCATIONS: Oceanside, Escondido, 3 Vista locations
INCLUDES: Meals
Develop a sense of community, gain personal self-confidence and an inherit sense of caring while giving back to our community.
DATE:  8/22/22 – 8/26/22
LOCATIONS: Escondido
INCLUDES: Meals
ART KIT: STEAM Zipline Kit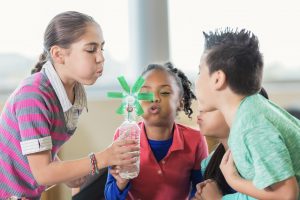 BOOK: Diary of a Worm by Doreen Cronin.
Turn up your curiosity and team up with fellow "scientists and inventors," participating in interactive experiments, involving anything from rocks and minerals to electronic circuits and chemicals. We'll do some investigative reporting, get a little messy and explore the science behind your favorite sport or hobby.

DATE:6/27/22 – 7/1/22
LOCATIONS: Oceanside, Escondido, 3 Vista locations
INCLUDES: Meals
ART KIT: Sports Beaded Necklace Kit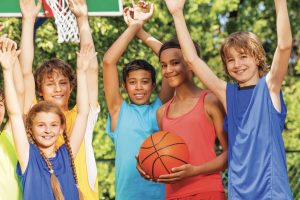 BOOK: Mighty Jackie: The Strike Out Queen by Marissa Moss.
This week campers definitely have a BALL exploring all things involving a ball (ball shaped/ball related). Campers will be able to play traditional ball sports such as basketball, volleyball and soccer but with exciting twist.

DATE: 7/18/22-7/22/22
LOCATIONS: Oceanside, Escondido, 3 Vista locations
INCLUDES: Meals
ART KIT: Tropical Sand Art Kit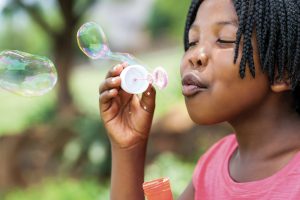 BOOK: Galapogas Girl by Marsha Diane Arnold.
Relax on a different tropical island every day! Join us as we explore the various island environments while noshing on juicy pineapple and sipping fresh fruit smoothies. Handmade leis, grass skirts, a hula or stimulated surf lesson and a fun-filled luau round out this trip to paradise!

DATE: 8/8/22-8/12/22
LOCATIONS: Oceanside, Escondido, 3 Vista locations
INCLUDES: Meals